IntarS - The Art of Integration
... open standards, open databases.
The application server -
A powerful class library with proven technology are behind IntarS. Instead of using the interpreted, proprietary Java2 EE technology, IntarS builds upon the compiled, free Objective-C variant to insure optimal access to the relevant factors for best performance.
The database server behind IntarS is MySQL: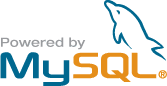 Learn more about: